This marks the resilience provider's eighth consecutive year of Gartner recognition, with inclusion in both the DRaaS Magic Quadrant and DRaaS Market Guide.
Germantown, MD – May 24, 2023 – Recovery Point Systems, a leader in cloud-based business resilience services based in Germantown, is pleased to announce its recognition in Gartner's 2023 Market Guide for Disaster Recovery as a Service (DRaaS) as an Evolved Traditional DR Provider. This marks Recovery Point's eighth consecutive year of Gartner recognition for its DRaaS offering.
The DRaaS Market Guide divides providers into three groups: Evolved Traditional DR Providers, Advanced Colocation/Hosting Providers, and Hyperscale Self-Supported SaaS. Recovery Point is one of three providers in the Evolved Traditional DR category, alongside Kyndryl and Sungard Availability Services (now 11:11 Systems). This category recognizes companies with decades of experience managing disaster declarations and deep competencies in supporting the recovery of a wide range of x86 and non-x86 workloads. For those reasons, they tend to support some of the largest and most complex engagements.
Recovery Point's suite of DRaaS offerings mentioned in the Guide are DRaaS for x86 (with Zerto, Veeam, or Carbonite), DRaaS for Oracle with Dbvisit, DRaaS for AIX, IBM iDRaaS, and DRaaS for IBM Z Mainframe. In addition, Recovery Point recently released a new DRaaS solution for Microsoft 365 Backup and Recovery, adding yet another client-friendly option to its award-winning portfolio.
According to Gartner's 2023 DRaaS Market Guide:
"A DR program consists of six primary lifecycle phases (see Figure 1). Many DRaaS providers offer customers choices ranging from self-service to fully managed. However, DRaaS doesn't absolve an organization from needing a DR program, as DRaaS offerings rarely involve other elements such as program development and governance, and recovery requirements."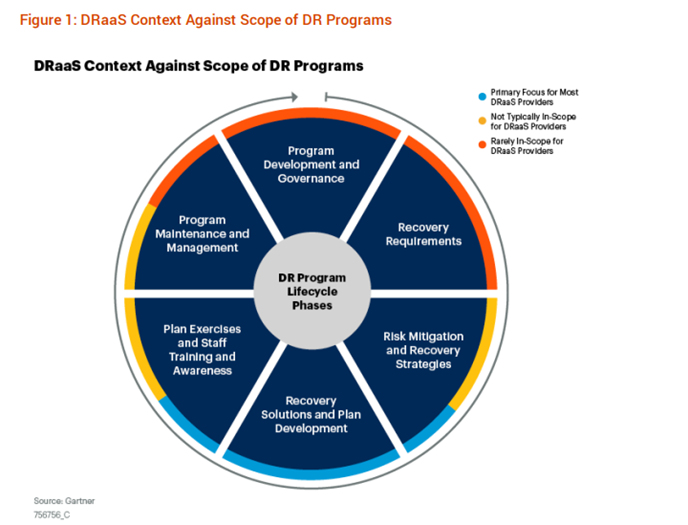 Recovery Point is unique with its fully managed recovery service, Business Process Resilience (BPR), which offers automation and orchestration with recovery to the system and application level, allowing it to offer all six DR program lifecycle phases:
Recovery solutions and plan development
Plan exercises and staff training and awareness
Program maintenance and management
Program development and governance
Risk mitigation and recovery strategies
"It's an honor to once again be listed by Gartner in the DRaaS Market Guide," said Jack Dziak, CEO of Recovery Point. "Recovery Point leads the market in business resiliency services and is a strategic enabler for the protection and disaster preparedness of complex, distributed, and vulnerable IT environments. In a technology landscape that is ever-changing, this recognition is a testament to the continued evolution of our solutions and services, and the client-focused nature of how we do business."
To learn more, you can access the Gartner 2023 DRaaS Market Guide here.
About Recovery Point
Recovery Point Systems, an Abry Partners portfolio company, is a nationwide leader in cloud-based business resilience services. Serving commercial organizations ranging from the Fortune 500 to SMBs, as well as federal, state, and local governments, Recovery Point delivers a comprehensive suite of IT resiliency and disaster recovery solutions for heterogeneous environments from mainframe to desktops. With a client footprint across the Americas, Recovery Point has been recognized by Gartner in its Magic Quadrant for DRaaS and its Market Guide for DRaaS for eight consecutive years. For more information about Recovery Point, visit www.RecoveryPoint.com.
About Abry Partners
Abry Partners is one of the most experienced and successful sector-focused private equity investment firms in North America. Since its founding in 1989, the firm has completed over $90 billion of leveraged transactions and other private equity or preferred equity placements. Currently, the firm manages over $5.0 billion of capital across its active funds. For more information about Abry Partners, visit www.abry.com.
###
Media Contact:
Erin Steinmetz
SVP, Marketing
240-632-7007
esteinmetz@recoverypoint.com